Air Conditioning Replacement
AC Installation Services In & Around Tallahassee, FL
The largest appliance in your home, an air conditioner is an essential component to your health and comfort. It is also a major investment and important decision to make when it comes time to replace your old unit. You don't want to run the risk of needing a new AC right in the middle of a Florida heat wave. For reliable, expert air conditioning replacement services, contact the pros at Benson's Heating & Air. 
Energy Savings Agreements
For a low price that comes with a heap of extra benefits, signing up for one of our HVAC maintenance plans just makes good sense.
PROTECT MY SYSTEM
Benson's AC Replacement Services
Are you considering replacing your AC unit? Connect with the experts at Benson's for your installation needs. We are the leading air conditioning service provider in the Tallahassee area, with impeccable service and high quality products. We offer:
Specialty services in high efficiency systems.

Industry leading warranties.

Custom home comfort designs.

Free price estimates on new installations.

Service from highly trained NATE certified technicians on every installation

Follow-up visit after installation to ensure the unit is functioning properly.

A 100% satisfaction guarantee. If you are not happy with the end results, we will do everything in our power to make it right.

Incredible

financing

 options available.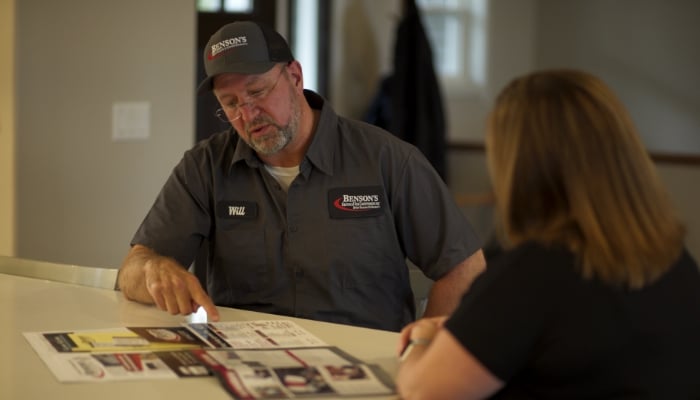 Do I Need A New AC?
Depending on the quality and service history of your unit, it may not need to be replaced anytime soon. However, there are a few things to be on the lookout for when considering replacement:
Age Of System -

In our area, where the heat of summer can be pretty extreme, an AC will typically last around 12 - 15 years. Depending on whether the unit has had regular maintenance or not, as well as if it was installed properly and the overall quality of the brand itself, this time frame could be more or less. Typically, however, any unit over 15 years old is likely on its last leg and could be vulnerable to breakdowns and inefficient operation. 

Number Of Repairs -

Are you constantly calling a repair service to come fix your AC? Units that continually need to be fixed tend to have to be replaced sooner rather than later. When your system malfunctions time and time again, it may be time to start over. 

Cost Of Energy Bills -

AC units that are not performing well will use more energy. This, of course, will be reflected in your power or gas bills. If you notice your energy usage creeping up, it could be time to start talking about replacement.